Adaptadores centrados en concentradores Adaptador de concentradores Adaptador de concentradores dobles Adaptador de concentradores Adaptador USB
Descripción
Descripción del producto
[3-in-1 Multi Ports Design]- Hub with USB PD function: 1*USB 3.1 + 1*HD MI + 1*USB Type-C charging port,Perfect support for Nintendo Switch,USB flash disk, camera, removable hard drive, mouse, keyboard or other USB A 2.0/USB A 3.0 devices.
[Portable] - With small size and lightweight design, Easily take it to everywhere as you like and enjoy the Switch games in TV mode.Charge While Playing - Just plug and play,Slim and portable design with aluminium body provides better heat dissipation.
1. Support Nintendo Switch, all USB C notebook and Phones.
2. USB3.1 type C new port
3. Achieve PD+data+HDTV video function together
4. Output: USB3.1/F, HDTV, USB3.0
5. Support 4*2K, resolution to 3840*2160p 50/60Hz
6. Operation temperature: -20ºC to 65ºC
Cuando se hace referencia a una red, un concentrador es el dispositivo de red más básico que conecta varias computadoras u otros dispositivos de red juntos.
Hub, China Hub, hub 3 en 1, hub 5 en 1, adaptador de hub, convertidor de hub
Aplicaciones
Computadora con placa base MSI, Apple MacBook Type-c, computadora HP, computadora Google principalmente para salida de video de dispositivo más delgado y delgado.

Detallado
Versión: 3.1, compatible con 1080P, 2K / 4K
Enchufe tipo c macho, USB3.0, HDMI cabezal niquelado
Material del alambre: cobre estañado OD4.0MM 24AWG tejido de alambre de aluminio y magnesio
Tipo: USB3.1 Tipo de interfaz: HDMI tipo c
Aspecto: carcasa de aleación de aluminio
Breve introducción del producto
| | |
| --- | --- |
| Product type | Type c to hdmi usb type c female |
| Color | Gold,grey,silver |
| OEM | Yes |
| Quality | High quality |
| Feature | Male to Female |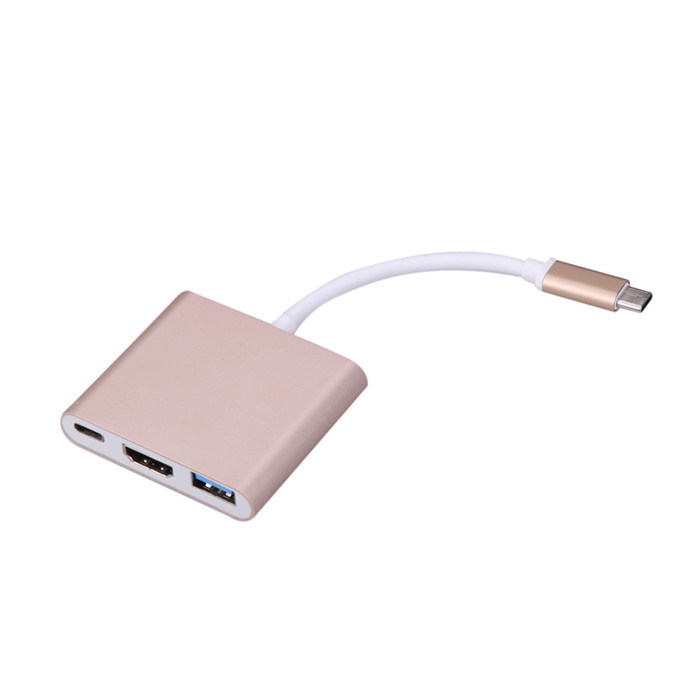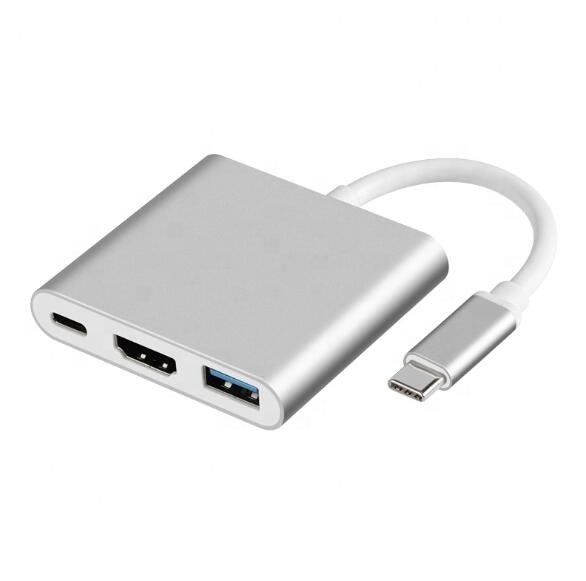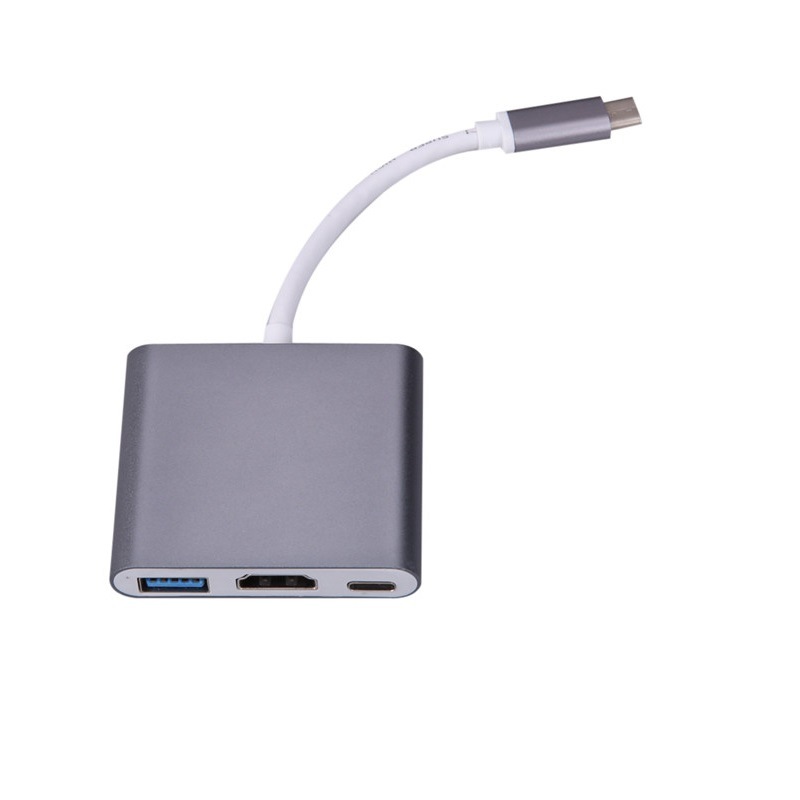 Solicitud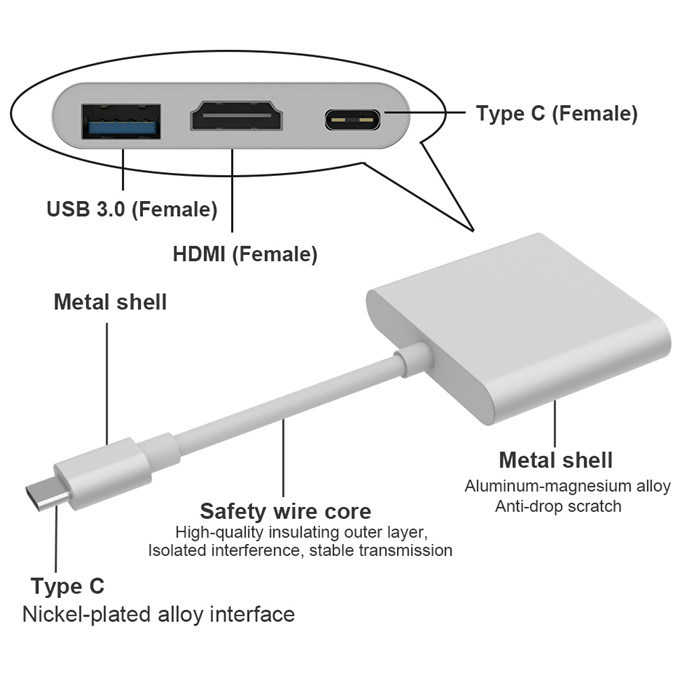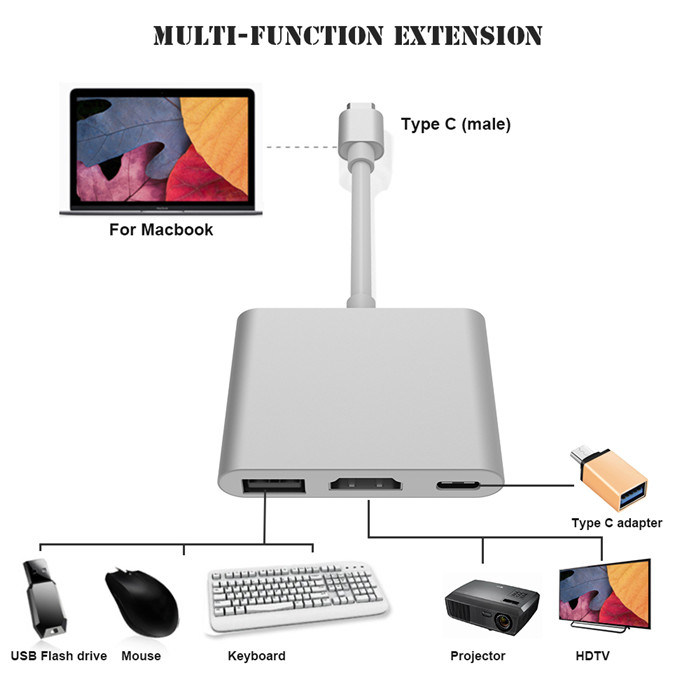 Certificación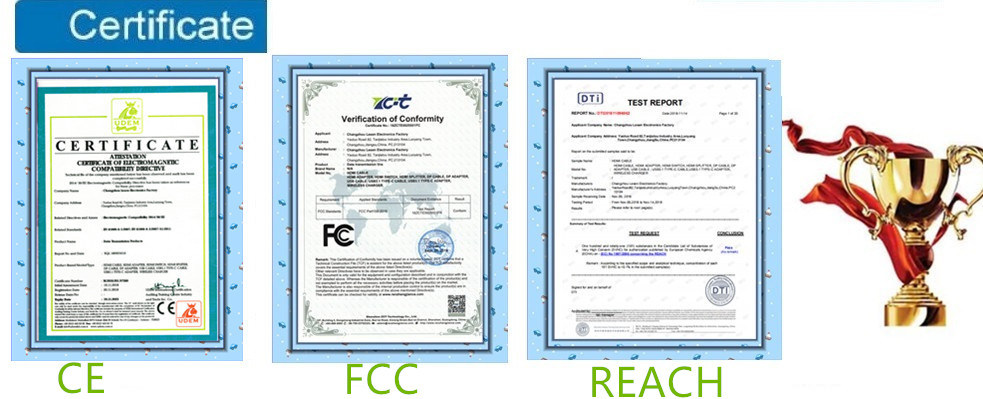 Nuestra compañía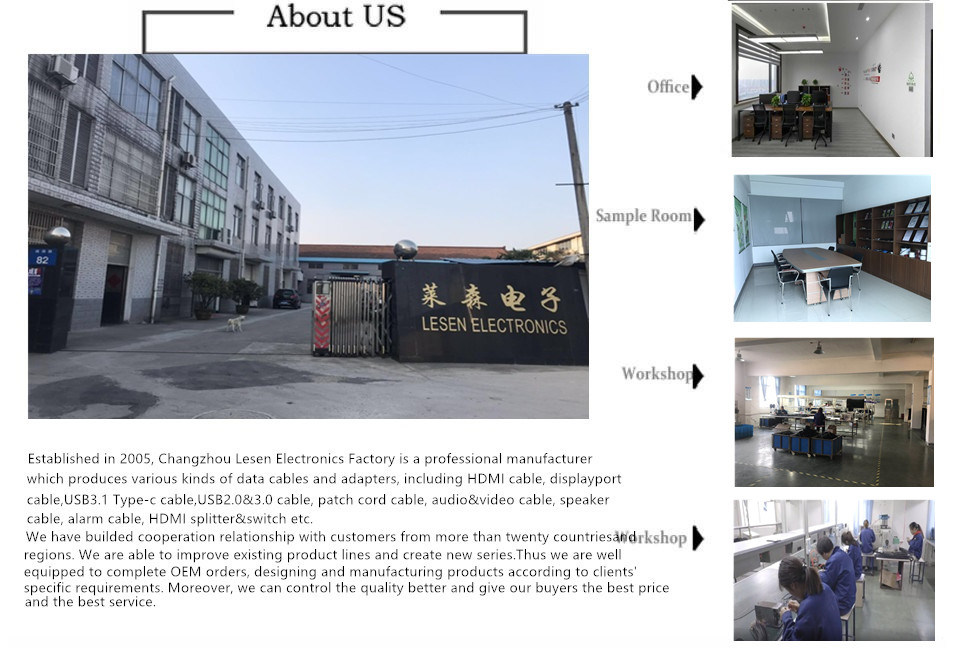 Condiciones de envío
Puerto de cargamento: Shanghai / HONGKONG

Muestra Delievry: 3-5 días después de la confirmación del pedido

Entrega de producción en masa: 10-15 días después de la

confirmación de la

muestra
Preguntas más frecuentes
Q1. ¿Es usted un fabricante?
A1: Sí, somos un fabricante experimentado con nuestros propios moldes y líneas de producción.
Q2.¿Qué tal la calidad de los productos?
A2: Nuestros técnicos y equipos de control de calidad prueban los productos uno por uno utilizando dispositivos e instrumentos especiales.
Q3.¿Qué tal el precio?
A3: Somos un fabricante y siempre ofrecemos a nuestros clientes el precio de fábrica más competitivo.
Q4.¿Cómo jugar un pedido?
A4: Póngase en contacto con el servicio en línea o envíenos un correo electrónico, le confirmaremos el precio del producto, las especificaciones, el embalaje, etc.
Q5.¿Puedo comprarle muestras?
A5: ¡Sí! Le invitamos a realizar un pedido de muestra para probar nuestra calidad y servicios superiores.
Q6.¿Puedo visitar su fábrica?
A6: Sí, bienvenido a nuestra fábrica.
¿Por qué elegirnos?
1. Buena Calidad: Tenemos un estricto sistema de control de calidad. Todos los productos han sido probados.
2. OEM aceptado: puede elegir el diseño que desee.
3. MOQ bajo: Podemos satisfacer muy bien su negocio promocional.
4. Descuentos: obtendrá algunos cupones después de realizar el pedido.
5. Servicio puerta a puerta: Nos aseguraremos de que sus artículos promocionales lleguen según lo programado.
PRODUCTOS POR GRUPO : Adaptador de cubo